Blender 2.57, the latest release of the open-source and free 3D modeling and animation application from the Blender Foundation, has undergone a variety of changes in its user interface. Rather than fully introduce Blender's user interface, this blog will focus on some of the changes that have been made since recent prior releases.
Below is the new default view which appears when a new file is created.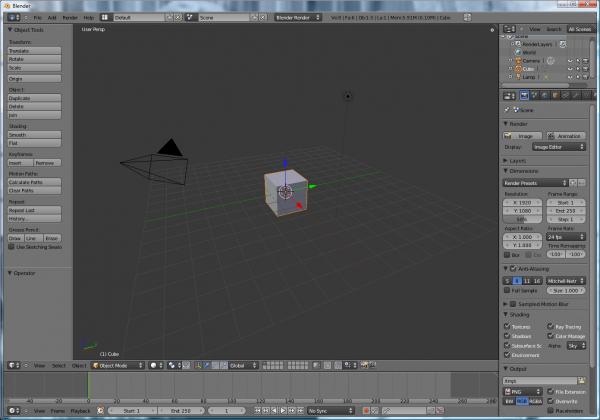 As with previous releases, Blender's user interface consists of a user-customizable arrangement of editor windows of various types. In the default view, the user interface is an arrangement of five editor windows, highlighted below.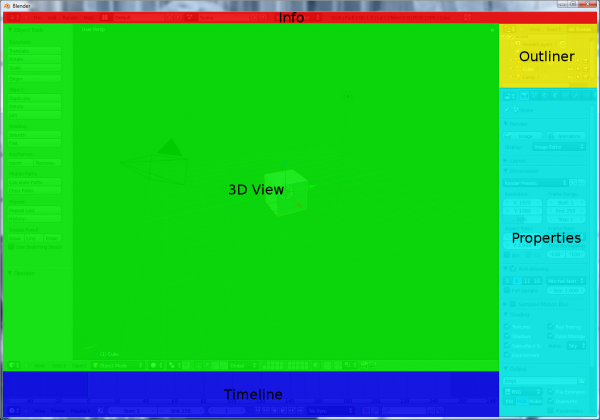 The editor windows are of the following types:
Info – Displays information about the Blender file. Its main purpose is to present Blender's main menu. Previous versions of Blender referred to this window type as User Preferences, and it was possible to change preferences which apply to all of a user's files. Pulling down on the window border of the User Preferences window would expose these extra user preferences, but in this version of Blender, it does not appear to be possible to do this with the Info window. On the other hand, when I installed Blender, I chose to save preferences in Blender's installation directory rather than in user-specific directories. Perhaps doing this disabled some of the functionality of the Info window.
3D View
Timeline
Outliner
Properties
The window types which are available in Blender 2.57 include:
3D View
Timeline
Graph Editor
DopeSheet
NLA Editor
UV/Image Editor
Video Sequence Editor
Text Editor
Node Editor
Logic Editor
Properties
Outliner
User Preferences
Info
File Browser
Python Console
As with previous versions of Blender, each editor window in the Blender interface can have a header – a band of controls which can be displayed across the bottom or top of the window. In previous versions of Blender, it was possible to show or hide a window's header; however, I've not yet determined whether it's possible to do this in Blender 2.57. Previous Blender versions' techniques for showing or hiding headers don't seem to work any longer.
Update: I just discovered what appear to be excellent video tutorials for Blender 2.5x. Rather than rediscover the wheel and then reinvent in terms of new tutorials, I'll simply link to them. Enjoy!